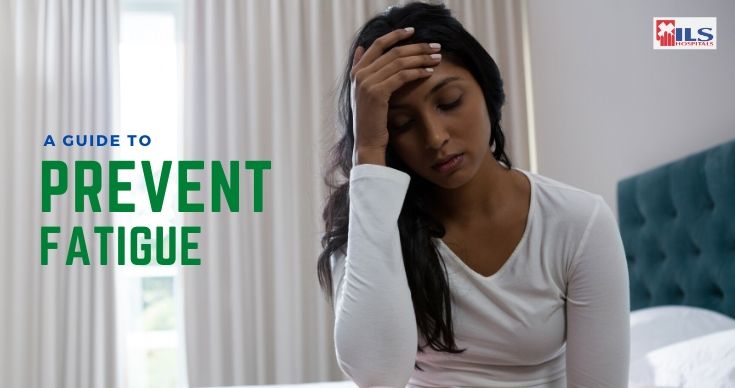 ILS Hospitals' Guide On How To Prevent Fatigue 
Feeling fatigued is, unfortunately, the new normal. All due to our modern lifestyle and more so because most of us are working from home due to this Pandemic situation. We are working extra to make up for the lost hours. Slow down, take deep breaths, and relax.
Fatigue is nobody's friend. Preventing fatigue is better than combating it. Today, ILS Hospitals, one of the best hospitals in Kolkata and Agartala will guide on how to prevent fatigue.
Eat a well-balanced diet
A well-balanced diet will ensure that your body is not deprived of any nutrients. Include protein, carbohydrates, fibers, vitamins, minerals, and good fats in your daily diet.
Drink water every hour
Dehydration leads to fatigue. Hence, stay properly hydrated by sipping water every hour. If you tend to forget drinking water then ensure a system where you are reminded to take water every hour.
Sleep early
Staying awake at night can cause lethargy. Think of your body clock and sleep on time.
Wake up early 
Waking up late is one of the causes for drowsiness. So, if you wake up late you find yourself left with fewer hours to finish your daily activities, so yes, embrace waking up early.
Be active
Be physically active and shun your sedentary lifestyle. Exercise regularly as exercising keeps you energized throughout the day and beats insomnia.
Stay stress-free 
Stress is the part and parcel of our today's lifestyle. However, chronic stress hampers your immunity and mental health. When you are stressed, you feel physically exhausted. So, don't stress.
Take breaks
Taking breaks between your work is not being selfish. It's a necessity to keep you sane and refreshed. If you work constantly without taking proper breaks, then you invite fatigue. So, take breaks as and when required.
Hope this guide helps you. For any health-related concern, do not hesitate to visit ILS Hospitals, one of the best hospitals in Agartala and Kolkata.