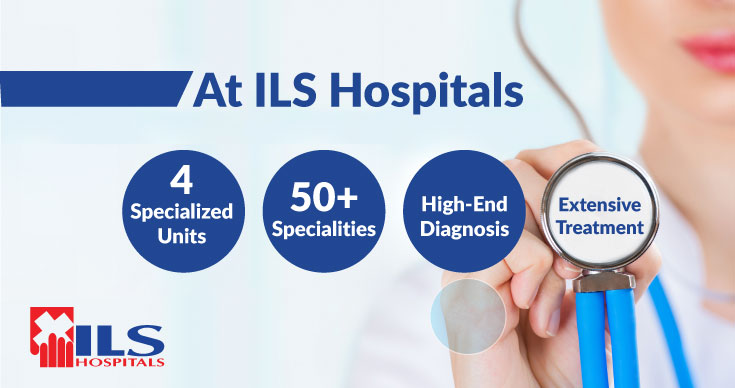 What Are Multispeciality Hospitals And How Are They More Beneficial Than General Hospital
Even though we all thrive to stay healthy, staying disease-free is always not so easy in reality. Often you need to go to the hospital and clinics to seek consultation from the doctors and get medical screening at the diagnostic centers or pathology labs. While you look for the best hospital, you are certain to come across 2 types of hospitals, general and multispeciality hospitals. Today, we will define what are multispeciality hospitals and how they are more beneficial than general hospitals.
General hospitals are a non-specialized healthcare provider that offers primary and general treatment for patients with all types of medical conditions. Multispecialty Hospital, on the other hand, addresses different branches of medicine under one roof and also offer surgical treatment and diagnostic services. ILS Hospitals is a well-known group of multispeciality hospitals that offers quality healthcare for people at an affordable price. It has 4 units, at Salt Lake, Dumdum, Howrah, and Agartala.
Here we list out some advantages that multispeciality hospitals offer.
1. Numerous medical specialties under one roof, which includes, but not limited to the following:
General Medicine, ENT, GI specialist, Dermatology, General Surgery, Opthalmology, Neuro medicine, Neurosurgeon, Cardiologist, Cardiothoracic surgeon, Pulmonology, Rheumatology, Orthopedic, Gynecology & Obstetrics, Nephrology, Pediatrics, Urology, Endocrinology, Plastic surgery, Dentistry and many more.
You can also find inter-specialties such as Neuro-Ophthalmology which is an interdisciplinary specialty between neurology and Opthalmology. It focuses on the diseases that originate due to some neurological reasons and affect the vision of the patient.
2. It offers high-end diagnostics which includes both general pathologies such as blood profile screening, x-ray scanning, USG, along with critical diagnosis such as cath lab, doppler test, etc.
3. It stays open all day, all around the year and also offers treatment for medical emergencies. It offers 24/ 7 emergency service, along with ambulance services, pharmacy, assistance with the blood bank, ICU, NICU, PICU, etc.
So, as you can clearly see, going to a multispeciality hospital is a much advantageous decision. In case you are not sure which doctor you should refer too, coming to a multispeciality hospital is your best option as they will help you get in touch with the most suitable doctor.
ILS Hospitals is a multispeciality hospital that offers extensive treatment. Come at ILS Hospitals to address a wide range of health conditions.