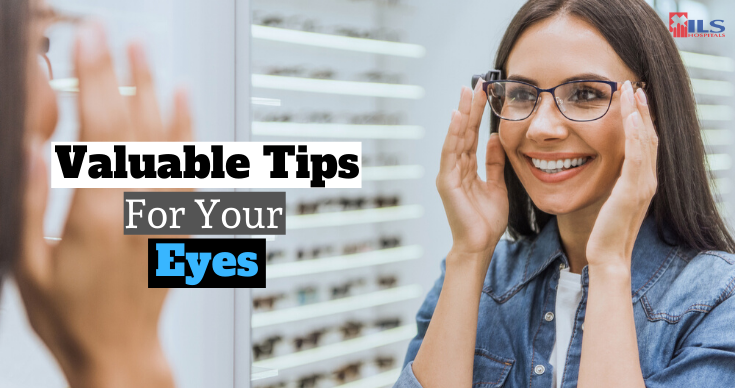 How To Take Care Of Your Vision
Eyes are one of the most important sense organs which allow us to see this beautiful world. A good vision is something which we all must maintain so that we never encounter any eye-related problems in the future.
ILS Hospitals would like to present some valuable tips for healthy eyesight. Without any further ado, let's take a look at them.
1. Consume more eye-friendly foods:
Vitamin A and Omega 3 fatty acids are crucial for good eye health. For healthy vision, we have mentioned some foods below:
Cashew nuts

Fish

Eggs

Kidney beans or Rajma

Almonds

Spinach

Carrots

Oranges

Peanuts

Black beans

Dairy
2. Get plenty of sleep:
After prolonged hours of working, our eyes tend to get tired. Make your eyes rest by sleeping for 7-8 hours every night. It will make your eyes healthy and will improve vision in the long run.
3. Do not rub your eyes:
We all tend to rub our eyes vigorously when a foreign irritant troubles our eyes. To say the least, it is surely not doing any good to your eye vision, so never rub your eyes. Try washing your eyes with plenty of cold water instead when a particle goes inside your eyes.
4. Use good quality eye cosmetics:
Invest in quality eye makeup products so that you reduce your chances of encountering any allergic reactions. It is always advised to do a patch test before trying out any new product that's related to your eyes. Also, practice good makeup hygiene, like removing your eye makeup before dozing off to sleep and cleaning your eyeshadow brushes after every use.
5. Wear UV protection sunglasses:
For a healthy vision, protection from harmful UV rays is unavoidable. Wear UV protection sunglasses whenever you're outside in the sun.
6. Use Computer glasses:
To protect yourself from Computer Vision Syndrome opt for Anti-Glare Computer glasses.
8. Install blue light filter on your electronic devices:
To protect your vision, it's important to take concrete steps. Since our life is surrounded by smartphones and other electronic gadgets, we should install a blue light filter or software on all our electronic devices.
9. Visit an eye specialist regularly:
Regular eye checkups from a good eye specialist will ensure that your eyes do not suffer from any vision-related problems and you receive timely medical help when needed.
You can book your eye checkup appointment from ILS Hospitals in Kolkata and Agartala.