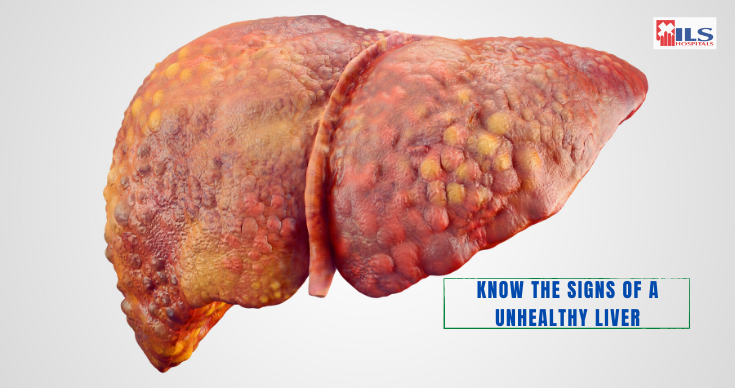 Signs Of A Liver That's Damaged And Requires Liver Treatment 
The liver is our body's most significant organ. The liver's primary function is to filter the toxins in our body. A healthy liver is an ultimate way to a healthy body. If your liver is unable to filter your body's toxins, then the build-up of toxins can get into your bloodstream and affect other organs.
When the liver gets damaged, it definitely requires prompt and accurate liver treatment. Your liver will always show you early signs of damage without fail. Today, ILS Hospitals, one of the best multispeciality hospitals in Kolkata and Agartala will discuss signs of a liver that's damaged and requires prompt liver treatment.
1st Sign – Poor Appetite
If you have chronic loss of appetite then it can indicate serious liver disease, cirrhosis.
2nd Sign – Sudden change in weight 
The second sign of liver damage is the sudden and drastic change in body weight. Either you lose or gain weight unintentionally.
3rd Sign – Fatigue
If you find yourself tired for no reasonable reason, it might be due to any underlying liver condition. Fatigue is one of the most common and early signs of liver damage.
4th Sign – Yellow Skin Or Eyes 
Yellow skin or eyes is the primary symptom of jaundice. However, the skin can become yellow even due to hepatitis B infection or cirrhosis.
5th Sign – Dark Urine 
In case of liver damage, the urine becomes dark or brown-coloured.
6th Sign – Pale or Dark Stools 
The stool's colour is given by liver enzymes, bilirubin and bile salts. If your stools are pale or dark then there's something wrong with your liver.
7th Sign – Fluid Retention 
Fluid retention happens in almost all patients of cirrhosis. If you experience swelling or puffiness in your abdomen, ankles, and legs, visit a good liver specialist.
8th Sign – Red Palms 
Red palms usually happen due to NAFLD (Nonalcoholic Fatty Liver Disease).
If you notice the above signs of liver damage in your body, get accurate liver treatment from expert liver specialists. At ILS Hospitals – Kolkata and Agartala, we provide economical liver treatment to our patients.