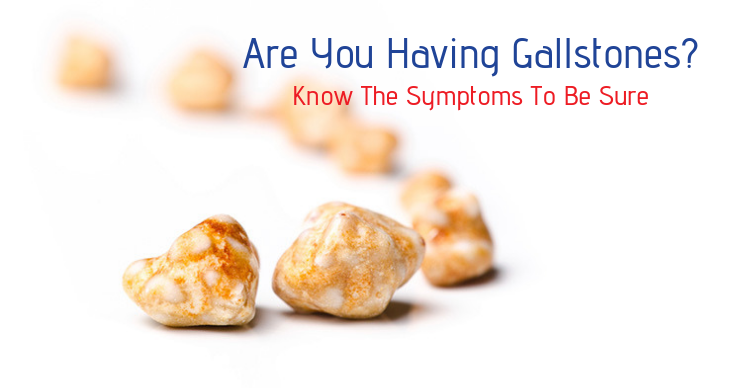 Are You Having Gallstones? Know the Symptoms to be Sure
Do you experience episodes of abdominal pain from time to time? Are you also experiencing persistent digestive issues that won't resolve with diet changes? Chances are high that you are suffering from gallstones. In case you are ruling out the possibility of the same, remember, most of the patients later going for gallbladder stone surgery admitted to experience no symptoms for a long period of time. Let's discuss what gallstones are along with some of the warning signs of gallstones.
The gallbladder is a small organ located beneath the liver and it secretes digestive enzymes that facilitate digestion. It is called the bile. When it concentrates into hardened mass, it becomes what we call the gallstones. It can either occur as one large stone or several small ones. The size of the same ranges from sand granule to as big as a golf ball.
There are some 'silent gallstones' that have no symptoms associated with it and often does not require any treatment either. Check out for the following warnings of gallstones that indicates you might need to consider a gallbladder stone surgery later on.
A sharp pain for a brief period, which often is called an 'attack', is the most prominent symptoms of an underlying condition of gallstone.

These episodes can be separated by some period of times. It can range anywhere between days, weeks, months or even years.

Though the pain might onset unannounced at any time, it has often been found to onset after 30-40 minutes after consuming a highly processed junk food.

This pain usually starts very mild but slowly turns severe. It stays constant for some time, which can last anywhere between 1 to 6 hours.

The pain usually originates in the abdomen, which may later move to the right shoulder or back. It usually sets during late night and the sharp pain may even wake a person right away.

The digestion associated symptoms such as nausea, vomiting, bloating, indigestion, etc. are often seen in patients with gallstones.

Symptoms like jaundice, fever and persistent severe pain need to be addressed immediately as it might indicate a blocked duct due to the accumulation of gallstones.
Unfortunately, gallstones are often recurring in nature. Those with a history of the same is highly susceptible to have it again in the future. Thus, it is always recommended to seek consultation before and after a gallbladder stone surgery to take measures against it.